Jessica Jahiel's HORSE-SENSE Newsletter is a free, subscriber-supported electronic Q&A newsletter which deals with all aspects of horses, their management, riding, and training. Since 1995, Jessica Jahiel, award-winning author, clinician, and lecturer, has been writing 8-12 articles a month based on questions from subscribers. Over 1450 articles are currently indexed and searchable in our newsletter archives.

When you subscribe, your HORSE-SENSE articles will arrive several times a month via e-mail with the very best in horse-related information and advice, in a no-frills, no-ads, information-dense format. Its interactive Q&A format means that the topics are the ones that you, the readers, want to read about! [Subscribe now].

Both HORSE-SENSE subscriptions and access to its archives remain free. But if you find the information of value, we ask that you consider making an annual contribution to HORSE-SENSE to help ensure its continued publication in its current free, non-commercial electronic format.
---
For those of you who are looking for timely, private assistance with your questions or problems Jessica offers private phone consultations.

Please visit Jessica Jahiel: Holistic Horsemanship® [www.jessicajahiel.com] for more information on clinics, video lessons, phone consultations, books, articles, columns, and expert witness and litigation consultant services.
---
How to submit a question Anyone may submit a question to HORSE-SENSE but you'll need to subscribe to HORSE-SENSE to receive the weekly e-mail newsletter.
Using spam filtering or a spam-blocking service? Please remember to add HORSE-SENSE to your white list (list of accepted senders). Read more about it.
Search the Archives
The HORSE-SENSE archives contain over 1500 articles. See article index for listings by subject. Additional articles will be available online once the new HORSE-SENSE site goes live.



---
Submitting Your Question
Please read the the guidelines before emailing questions@horse-sense.org with your question. If you are looking for timely, one-on-one assistance with your questions or problems, Jessica offers private phone consultations.
---
True Helmet Stories from
HORSE-SENSE Readers
Since 2003, we have been collecting stories from HORSE-SENSE readers. They share their first-hand experiences in the hopes that they will help convince you or someone you care about to wear a riding helmet that meets or exceeds current safety standards (in the USA: ASTM/SEI) for every ride. Please don't hesitate to e-mail or print any of these stories you may wish to share with others. Read on: True Helmet Stories

---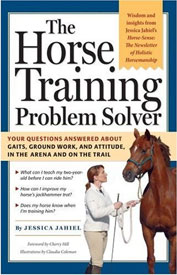 The Horse Training Problem Solver
The third book in Jessica Jahiel's Problem Solver series, The Horse Training Problem Solver is based on the HORSE-SENSE Newsletter and features over 100 articles in the familiar HORSE-SENSE Q&A format, many newly written just for the book.
Order from Amazon
416 pages, Storey Publishing, LLC, September 2007. Also available in paperback.

---
The Problem Solver Series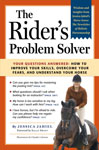 The Rider's Problem Solver
Your Questions Answered: How to Improve Your Skills, Overcome Your Fears, and Understand Your Horse.

Order from Amazon
384 pages. Storey Publishing, LLC, April 2006. Also available in paperback.
Take a look inside: Table of contents and Author's Preface.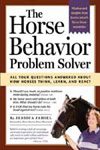 The Horse Behavior Problem Solver
Your Questions Answered About How Horses Think, Learn, and React
Order from Amazon.
416 pages. Storey Publishing, LLC, May 2004.
Also available in paperback.
Search inside the book